Darlington Farmers Auction Mart held their New Year Prize Show and Sale of Store Cattle and special evening Dispersal and Reduction sales of in lamb ewes in conjunction with their weekly sale of cast cows, store and breeding stock on Monday 17th January 2021. Forward were 493 Cattle and 850 Sheep.
97 Cast Cattle & OTM sold to 216ppk or £1801

2 Breeding Cattle sold to £1440

97 Young Bulls sold to £1510

128 Store Steers sold to £1500

169 Store Heifers sold to £1420

161 In Lamb Ewes sold to £1500

19 Empty Ewe Hoggs sold to £700

622 Store Hoggs sold to £118

48 Feeding Ewes sold to £130
Show Cattle
In the hot seat this morning entrusted with the judging duties was regular supporter Ricky Alder of Woodhill Farm, Ponteland; we thank him enormously for making a thorough and professional job. Picked as our 1st Champion of the New Year was a muscle machine from the prolific Stones Family of Nun Cote Nook Farm, Marrick; a remarkable 3 tri-coloured rosettes in a row at our shows and sales for 'Team Stones'. A brilliant 9-month-old British Blue steer sired by Lune Valley Forester looks to have a bright future ahead of him, he later went on to sell to Lincolnshire based M Eagle, Gedney Hill securing themselves another helping of Nun Cote Nook breeding. Reserve Champion today headed over the border to our growing Scottish following, a fantastic Limousin heifer from Gordon A Mackie, Drimmie Farm, Forfar picked up the blue and white rosette and went on to sell to our judge for £1420. Exceptional runs of cattle from familiar faces as both A & R Thompson, Dimmingdale Farm, Moorsholm and H S Hutchinson, White House, Eastgate scooped up the remainder of the clean cattle rosettes between them. An absolute humdinger of a show of feeding bulls were displayed and the excellent Limousin's of American Squeeze Crush took two of the three rosettes sandwiching an exceptional Aberdonian Charolais from Stephen Allardyce, Tarland, Aberdeenshire.
Best Steer
1st K O Stones, Marrick sold for £1300 to M Eagle, Spalding (CHAMPION)
2nd H S Hutchinson, White House sold for £1250 to F W Penrose & Son, Ripon
3rd H S Hutchinson, White House sold for £1290 to S Wildman & Son, North Duffield
Best Heifer
1st G A Mackie, Forfar sold for £1420 to M F Hall, Ponteland (RESERVE CHAMPION)
2nd A & R Thompson, Moorsholm sold for £1200 to I Marshall & Sons, Bishop Middleham
3rd A & R Thompson, Moorsholm sold for £1200 to I Marshall & Sons, Bishop Middleham
Best Young Bull
1st American Squeeze Crush, Bedale sold for £1510 to AS & SM Kemp, Sherburn
2nd S Allardyce, Tarland sold for £1400 to AS & SM Kemp, Sherburn
3rd American Squeeze Crush, Bedale sold for £1500 to AS & SM Kemp, Sherburn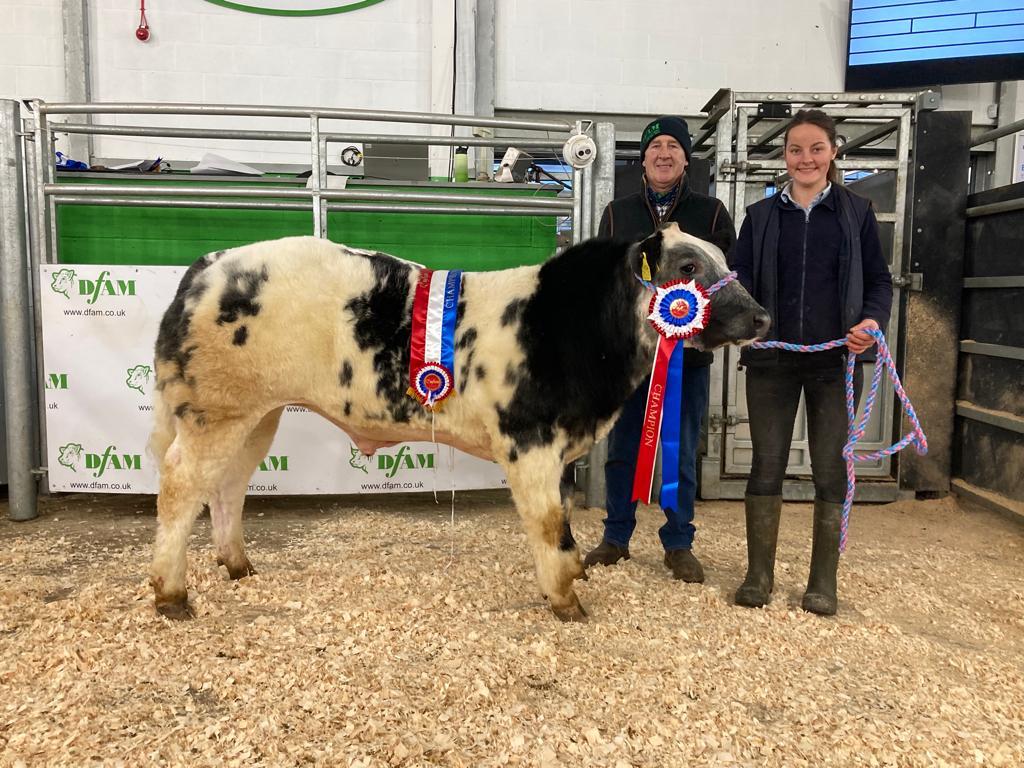 Store Cattle 
Away from the show cattle the store vendors continue to have a merry old time of things as trade again proved superb for all classes; as always in Darlington they don't all have to look like princesses to ring the bell with numerous buyers ringside for all shapes and sizes.
Beginning with the bulls and an excellent show, leading the way were the prize winners mentioned above from American Squeeze Crush, special mention must go today to the Aberdeenshire Allardyce run of 9 to 11-month-old continental bulls as the 56 averaged a pleasing £1072, with their help the young bull sale average of £994 is up a stratospheric £197 on this sale in 2021 with 30 more sold today.
The store cattle followed the bulls and a magical trade was witnessed throughout, some of the yearling calves look to be up £150 to £200 on the year with extraordinary enthusiasm hailing from our 44 active ringside buyers, heifers averaged £984 up £147 on the year and the steers today levelled at £1066 seeing a rise of £157. Leading the trade was the Drimmie Farm consignment of Gordon A Mackie all the way from the County town of Angus, top heifer proved to be the Reserve Champion whilst our leading steer at £1500 from the same good home was an exceptional Charolais. A further 10 steers all sold over £1400 and amazingly all from the same super run as J H Johnson of Roddymoor produced the right goods, with the heifers 8 sold beyond £1300 but unlike the steers the spoils were shared as 7 vendors fought out the close battle.
Leading Prices
Young Bulls – £1510 £1500 American Squeeze Crush. £1480 £1400 £1375 £1370 £1300 £1260 £1235 £1210(x2) £1205 £1200 £1195(x6) £1165 £1160(x2) £1130(x5) £1120 £1115(x2) Stephen Allardyce. £1370(x2) M Chambers. £1320 S Blythman £1275(x2) £1240(x2) £1200 J R & M Richardson. £1250 £1190 T & D I Allen & Son.
Store Steers – £1500 GA Mackie. £1460×2 £1440×2 £1430×2 £1420×4 £1390×2 £1380×2 £1265 JH Johnson. £1320×2 £1200 JR&M Richardson. £1300 £1085×3 KO Stones. £1290 £1250 £1110 HS Hutchinson. £1255 £1165 £1090 £1080 CB Maddison. £1250 D Walker. £1240 £1105 RA&SL Wearmouth. £1230 R Ormston. £1190 £1180 £1110 L Kidd. £1170×2 GW&M Singleton & Sons. £1160 £1090 PRE Marwood. £1130 P&J Martin. £1110×2 A&R Thompson. £1100 B Watson. £1100 R&W Todd. £1095×2 N Wilson. £1085 M Eagle.
Store Heifers – £1420 GA Mackie. £1390 £1220 AC Walton. £1380 PRE Marwood. £1380 JR&M Richardson. £1350 £1340 £1240 £1200 JD&MS Mortimer. £1340 £1210 £1140 £1090×2 RA&SL Wearmouth. £1340 £1135 £1130 JG Wilkinson & Son. £1335 £1240 £1210 £1140 R Ormston. £1270 C&M Burnett. £1260 £1235×3 RL Walker. £1210 £1100 JS Foster & Son. £1200×8 £1120×6 A&R Thompson. £1180×2 £1130×2 M Eagle. £1140 £1100×2 HS Hutchinson. £1130 A Gregg. £1100 J&S Thompson. £1100 £1085 CB Maddison.
Cast Cattle – The colossal cow trade continues, vendors in attendance from Norfolk to Aberdeenshire less meat enjoyed a super sale average of over 138 pence per kilo, the best fleshed beast proved to be an absolute flyer. A lovely Limousin OTM from J D Bentley & Son, Lane Head Farm, Kelton topped the sale at 216ppk with another of the same description from J & E M Lawson, Harpington Hill, Morden our runner up at 208ppk. Top of the older cows was a superstar British Blue from J L Marks, Gilly Flatts, Bishopton; at 13 years young, 855kg she sold for 200 pence per kilo. With the beautiful Blue from Gilly Flatts checking in at £1710 it certainly needed something special to beat her gross value, stepping forward was an absolute tank of a cow, no less than 1001kg of the British Blonde from P Weightman & Sons, Hallfield Farm, Easington reached a massive £1801. The native breeds were again well represented as F J Hugill of Sproxton sold Shorthorn OTM's to 190ppk and £1176 whilst older Aberdeen Angus cows sold to £1219 from A & A G Moralee, Willington and 148ppk from Forster Hall & Sons, Butsfield. Delights from the dairy were again apparent as I Newton & Son, Howden-le-Wear led the way for Friesian's reaching £1175 and 138ppk.
Cast Cattle Leading PPK – 216 J D Bentley & Son. 208 J & E M Lawson. 200 164 154 J L Marks. 198 182 166 A & R Thompson. 196 160 158 F & R Simpson. 190 F J Hugill. 186 176 S & J Dent & Son. 180 164 P Weightman & Sons. 166 W M Reed & Sons. 164 150 A C Simpson & Son. 162 152 A & A G Moralee. 160 Beck Bread Livestock. 160 Stephen Allardyce. 158 156 A P & E Procter. 150 A Hurn & Partners. 148 Stephen Eagle. 148 Forster Hall & Sons. 148 A J Marr & Son.
Cast Cattle Leading Gross – £1801 £1318 P Weightman & Sons. £1710 £1213 £1144 J L Marks. £1400 £1288 £1243 A C Simpson & Son. £1365 £1170 S & J Dent & Son. £1338 £1160 B & H Plumbly. £1325 £1292 £1154 F & R Simpson. £1315 Dromonby Bridge Farm. £1297 J & E M Lawson. £1255 A P & E Procter. £1221 A & R Thompson. £1219 £1176 A & A G Moralee. £1210 Forster Hall & Sons. £1200 W M Reed & Sons. £1187 A Hurn & Partners. £1176 F J Hugill. £1175 I Newton & Son. £1144 S C Holden. £1134 Beck Bread Livestock. £1127 J D Bentley & Son.
Store Sheep – The store hoggs are naturally less numerous now as the season trundles on, perhaps not the sublime scenes of a week ago however another super trade occurred today with a sale average of £94. As a staggering 296 hoggs sold for £100 or more it was a close race to top the sale, four vendors sold at £115 or more however it was a dozen brilliant Beltex lambs from S J Love, Wolsingham which took the honours when they sold for £118. Fewer feeding ewes were offered however the top trade remains, best of the day a single Suffolk from W A Stephenson, Leasingthorne at £130 with Mule's from the same home at an impressive £118.
Store Hoggs Leading Prices – £118 £117.50 116.50 £113.50 £111.50(x2) £109.50 £108.50 £100 S J Love. £117 £112.50 £110 D R Smith. £116 B Lowson. £115 £106.50 J & F Hartley & Sons. £111 £107 £100(x2) B & J Bainbridge. £110 C W Cutler. £108 A Hughes. £106 £98 T & D I Allen & Son. £105 £97 L J Daley. £103 £102 S Beeforth. £100 P M Thompson. £100 £95 F Johnson. £100 N Fell. £99 W A Stephenson. £97 F Bainbridge. £92.50 M J Hutchinson. £92 Bowes Bros.
Feeding Ewes Leading Prices – £130 £118 £112 £89 W A Stephenson. £115 £110 £106 £60 T & D I Allen & Son. £101 £97 £89 £88 £70 T Smith & C Mason. £87 S J Love.
Reduction Sale of Ewes from E W Holmes, Hetherick Grange
Genuine hard-working 4, 5 and 6 crop ewes from Chris Holmes quite rightly attracted much attention, the sale brought about by a change in farming policy at Hetherick Grange saw the trade peak at £170 for 4-5 crop Texel crossed ewes carrying twins; the consignment of 128 mostly Mule with some 1st cross Texel's averaged a pleasing £151.61.
In Lamb Ewes £170 £165×2 £162 £160×4 £150×2 £140 £135 £128 £125
Dispersal Sale of Texel Ewes from P Turnbull, West House
Buyers from far and wide gathered for the eagerly anticipated dispersal of Peter Turnbull's outstanding Texel Flock, opportunities to buy this level of quality are certainly few and far between, with this in mind the tremendous ewes found new homes with ease at exceptional prices. Credit to Peter and his hard-working family who had the sheep turned out to absolute perfection, the ensuing trade was fantastic and indeed greatly deserved for the high standard and obvious attention to detail which has gone in to this flock for the past 18 years.
Top of the sale was twice £1500 as buyers from as far North as Scotland and all across our neighbouring counties dug deep. First at £1500 was lot 13 a super 2 crop ewe scanned with a single which sold to H Barker & J Gibson of Appleton-le-Moors; at the same price followed lot 31 a very correct gimmer shearling carrying twins which sold to R J & J Raine, East Woodburn. Leading the ewe lambs was the 1st in the ring, a topper with a sensational carcass she sold for £700 to J P Floyd, Whitby.
Averages –
24 In Lamb Ewes £610.83
10 In Lamb Shearling Gimmers £839.00
19 Ewe Hoggs £368.42
Leading Prices
In Lamb Shearlings £1500 £1400 £1100 £800 £750 £680 £580 £550 £500
In Lamb Ewes £1500 £1400 £1300 £800 £700×3 £680 £600×3 £580×2 £510 £500×3 £450 £420×2 £410 £400×2 £380×2
Gimmer Lambs £700 £580 £510 £500 £380×3 £350 £320 £300×3 £280 £260 £250